Labels: Buyer Tips, Foreclosures, Opportunities
2 comments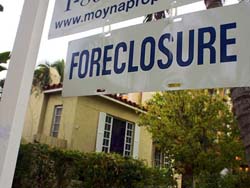 In foreclosure auctions there are winners and there are losers. If you are careful you can end up with a winner and walk away with a home at 20-50% off the price. Or, you can get carried away in a bidding frenzy and purchase a property at just a small discount. In the latter case you may wind up with a house you should not have bought in the first place...

You can get a real steal at a house foreclosure sale—or you can overpay for a money pit. Here's how to avoid the latter.

Step 1: Know your actions
Know your auctions. At a sheriff's, trustee's, or courthouse auction, you can't inspect the property in advance; no information is provided on the property; you'll need to pay much or all of your bid on the spot, in cash or a cashier's check; and it will be your problem to evict the tenants! But this is where you'll find the deep discounts.

Step 2: Play it safe
If you want to play it safe, go to an auction house sale. The bank already owns these properties (so you won't have to kick anyone out), and you're usually allowed to inspect the premises beforehand. But this comfort level comes at a price—you'll typically pay 90% to 95% of the market value.

Step 3: Expect the worst
Expect the worst with any house you buy at auction. If a homeowner couldn't afford his mortgage, it's reasonable to expect he wasn't keeping up with maintenance and repairs, either.


TIP: Be aware that homeowners who are forced out of their houses sometimes express their bitterness by taking with them anything that isn't nailed down, leading to huge (and unanticipated) repair bills for the new owner.
Step 4: Do a drive-through
Drive through the neighborhood of any foreclosed home you're considering. If the area is teeming with foreclosure signs, prices are likely to fall even farther. It also may be the sign of an area on the decline.

Step 5: Check what you can
Check out as much as you can about the house in advance of the auction. If you're allowed to do an inspection, take a contractor with you; he'll be able to give you a ballpark number on the repairs you're looking at. Check if there are any liens on the home. Review the title search. Know what other homes in the area are worth.

Step 6: Have cash
Be prepared to pay on the spot a 5% deposit, in cash or a cashier's check, if you have the winning bid at an auction house sale. At a sheriff's sale, you might have to pony up the full amount.


TIP: Have realistic expectations. Banks aren't in the business of giving away homes, so if a price sounds too good to be true, it probably is.
Step 7: Come with pre-approved financing
Come with pre-approved financing, even if the auction doesn't demand it. If you make the winning bid and then find you can't get financing, you'll still be legally responsible for paying 25% of your bid!

Step 8: Look affluent
Attend the auction in your most expensive clothes. It will trick other buyers into thinking there's no point in getting into a bidding war with you.

Step 9: Set a limit
Set a limit as to what you'll bid so you don't end up overpaying for a house simply because you got caught up in the heat of the moment.

Step 10: Avoid nasty surprises
Know the rules of your auction. If you win a bid, do you have time to change your mind, or will you have to pay a penalty if you back out? Is there a "reserve amount"—an amount below which the owner does not have to sell, even if you won the bidding? Is there a "buyer premium"—an additional 5% to 10% you have to pay the auction house?

Step 11: Jump right in
Jump right in when the bidding starts—assuming you like the house. Homes sold at the beginning of an auction typically go for less money than those sold at the end.


FACT: Due to the 2007 real estate market crash, the Senate voted to give a $7,000 tax credit to anybody who buys a foreclosed home. Check with your tax advisor for details.

Watch this MSNBC video with expert tips for those venturing into real estate auctions. The real estate expert explains the best techniques from how to dress for maximum effect to how to keep your emotions in check and when to make your bid for that dream home…