Labels: About Us, KarlHaus Team
0 comments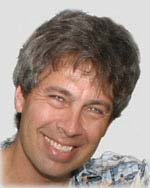 Carlos is an Entrepreneur and former Fortune 500 Senior Executive with a broad background in structuring complex commercial transactions. Semi-retired at the age of 39 after founding and growing several businesses in High Technology, Manufacturing and Distribution, he has kept active as a private investor and advisor of strategy, public policy and corporate governance.
With long prior experience in Information Technology, Mergers and Acquisitions and as Management Consultant to the largest corporations on the world, he is uniquely qualified to advise on complex transactions in business acquisitions or divestitures and commercial and investment real estate. A long-time resident of the Spruce Creek Fly-in, he is an expert in Fly-in Real Estate properties.
He has served on the Boards of Directors of several private and public corporations as well as public policy organizations. He currently serves on the Boards of Pacific Airport Group (NYSE:PAC) the largest commercial airport operator in the Americas, Embry Riddle Aeronautical University, EagleNet Ventures, Otto Aviation and Karlhaus Development as well as on the Executive Advisory Board of the Daytona Beach International Airport Partnership and the Embry Riddle Technology Research Park. He has been interviewed and featured by CNN, the BBC of London, The Travel Channel, The Associated Press, and multiple national and international magazines. He has written numerous articles about technology, strategy, the economy and general business interest. His advice column published by InformationWeek is targeted to senior executives. He is the Editor of the Florida Real Estate Blog and The Spruce Creek Journal and a contributing writer to CNN online, Digg.com, Del.icio.us and many Web 2.0 Social networks.
Mr. Bravo was previously an Executive Officer and one of the original Shareholders of USinternetworking after leading the merger that built the company. USi is the pioneer in the Internet-based outsourcing of Enterprise Applications and E-commerce for a flat monthly fee inventing the "ASP" (Applications Services Provider) Industry. During Mr. Bravo's tenure, USi launched its IPO which raised $145Million in 1999 and by 2000 its Market Cap reached over $6 Billion with 1,200 employees.
Carlos has been investing in Real Estate for over 25 years; During the 80's and early 90's he was involved in redevelopment efforts and property restoration though Bravo Investment Group. His family's development business has built several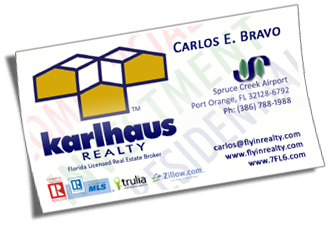 thousand condominiums in South America, considered one of the toughest markets in the world due to the lack of financing facilities.
He Attended the University of Florida's school of Engineering and Northwestern University's Law and Business Schools and holds advanced degrees in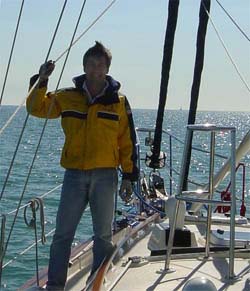 Aerospace Engineering (which incidentally, makes him a card-carrying real-life rocket scientist...), Applied Mathematics and Business.


His main home is in Spruce Creek, Florida where he lives with his wife and daughter and indulges his passions of flying his award-winning WWII-vintage aircraft as well as ocean sailing. An active member of the US Air Force Auxiliary, and appointed by the FAA as a Federal Aviation Safety Counselor, he holds FAA Commercial Pilot and Flight Instructor Certificates and is qualified to fly both Airplanes (single and multi-engine) and Helicopters. Carlos obtained his military training with the US Army (ROTC , Rangers). He has traveled extensively and speaks fluent English and Spanish as well as basic French and Italian.